Michigan's Largest Hemp Processor is Right Here in Isabella County
CRYSTAL GWIZDALA | THURSDAY, JUNE 17, 2021
Read Full Article on EpiCenter Mt. Pleasant
Ag Marvels is a family-owned business. They're the largest hemp processor in Michigan, and they're located in Shepherd.
Not only has the Klumpp family put down roots in the hemp industry, they've also put roots down in this area. They've been in Isabella County for generations. Mike Klumpp, principal CEO of Ag Marvels, bought over 2,500 acres of land for his farm from his grandfather. Starting out, and even now, the land is predominantly organic corn and soy. Once the 2018 Farm Bill was passed, they started experimenting with hemp.
"We've been in ag(riculture) forever," says Klumpp. "We've been entrepreneurs forever; we own several businesses. We thought that hemp and ag was right up our alley, so we started planting hemp on our own farm a couple years ago. And seeing the need for a processor in our area, we started putting in dryers and built this processing lab. It's kind of been 100 miles an hour ever since."
Hemp is a volatile industry. One month in the hemp industry is equal to about four to five years in regular agriculture, says Klumpp.
"It's a crazy market to stay on top of…but we're willing to make it work, and we have made it work, thankfully," says Blake Klumpp, Mike Klumpp's son and field manager at Ag Marvels. "I think a lot of that too is [because] we're expanded over the broad spectrum of things."
Mike Klumpp has a retail brand, Funny Farm Hemp Co., that sells gummies containing different cannabinoids. Mike's wife, Jaime Klumpp, owns Heirloom Grove, a hemp bath, beauty, and skincare brand. Their hemp products are all grown and processed at Ag Marvels.
Ag Marvels is also one of the biggest hemp growers in the state.
Ag Marvels sells seeds and clones (starter hemp plants) to farmers. When they do, they establish a contract with them for processing. Once the hemp has been processed, the product is returned to the farmer. Not only do they sell to area farmers, but they also sell overseas.
"I deal with people all over the [world] right now," says Blake Klumpp, who says he deals with Greece, Switzerland, Australia, Thailand, Japan, Canada, several countries in Latin America, and South America. Most of their international business deals with selling seeds. In the United States, Ag Marvels has operations in Texas and Oklahoma, and soon in Virginia.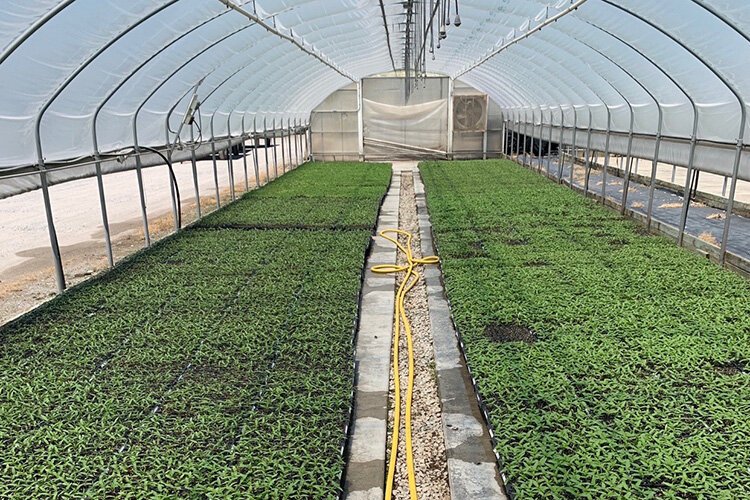 Hemp starter plants are grown in a greenhouse at Ag Marvels. Photo Courtesy of Ag Marvels.
What does it mean to be a hemp processor?
Since hemp is such a new and rapidly evolving industry, it's challenging to keep up with the innovations. "There are very few processors that are successful anymore in America right now," says Blake Klumpp.
Hemp is a versatile plant. The flowering portion of the plant is smokable, but it needs to be dried first. CBD oil and other isolates are generally derived from the flower as well. The fibrous portion of the cannabis plant can be used to make textiles or even building materials like plastic. To craft these unique products, the plant needs to be processed.
Once the hemp crop is harvested, it must be dried out. Ag Marvels uses a sizable, heated dryer. The hemp weaves its way through the oven on a system of conveyor belts.